*Not pictured above, because they were ebooks: Gunlaw, by Mark Lawrence, and Michael Vey and The Prisoner of Cell 25, by Richard Paul Evans; cover images and links included for those titles below.
#10: The Map of Chaos (Triologia Victoriana #3)
Sheer chaos from beginning to end. I thought and I hoped it would be better, but the longer it dragged on, the worse it got, finally stumbling to a shambling, misshapen monster of an ending. Boo. The "Triologia Victoriana" was a series I happened to spot on the "Staff Picks" shelf at the library. It had a fairly high rating on Goodreads too; the blurb drew me in, promising a genuine romp through Victorian classic literature. What I got was a haphazard, ponderous mess of somebody else's really strange pipe dream, mashing up all the dark and weird bits of said classics. Each time, I cracked open the thick tone, hoping for something fascinating—endearing, even—after the "debut jitters" (I assumed) of the first book, largely attributed to the fact that the book wasn't originally written in English, but translated. (Still... Inkheart and the Ruby Red trilogy weren't originally in English either, and those are freaking fantastic!!) That being said, I will own that there were brief moments of a poignant sentence or two amid the doggerel and purple prose (the ugly kind of purple that wishes it were mauve but cannot quite manage plum so it ends up a really ridiculous, sick kind of faded color), but the characters were insufferable and the plot nearly incomprehensible. Not worth the time it took to read it, really.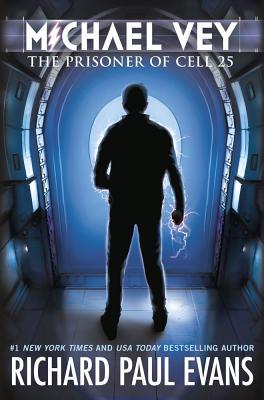 Pretty decent for a YA. This is one of those books I was always seeing around because they were somehow popular among YA, so I equated it with the
Percy Jackson
series, or even
Artemis Fowl
. I had yet to check it out from the library, but I ran across it on Wattpad, so I thought, "Why not?" The answer: "no reason... Just don't ever do it again." It wasn't horrible, but it wasn't quite all that fantastic as I was hoping. I appreciated the execution of the premise: a secret genetic experiment left seventeen kids with special electricity-related abilities. Some of the kids had disabilities: one was blind, and the main character has Tourette's. However, a lot of the interactions and conversations were both generic and often "leading"—as in the only reason they are speaking is for exposition or to get another character to say a specific line... But okay, it's a "kid's book" so what am I complaining for?
#8: The Calder Game (Chasing Vermeer #3)
Blue Balliett
Entertaining, wistful, intriguing. A bit off-kilter with the psychology of it, the worldview, but it's definitely deeper than the fluffy, empty stuff of juvenile literature. It's been a while since I read a Balliett book! The intrigue is always well-paced and fascinating, very much mystifying and confusing till everybody figures things out and explains it so that the rest of us understand what is going on. These books are certainly great for budding art enthusiasts looking for an intriguing adventure consisting of high-profile-yet-obscure creators of abstract art!
#7: Driving Heat (Nikki Heat #7)
Richard Castle
Wow. I can actually tell a change in the writing style. I was kind of excited when I first realized these novels were intentionally written as if Richard Castle penned a new novel inspired by his experiences of each successive season. With this in mind—I felt like even this latest installment really did a good job of reflecting the harrowing and painful circumstances of the last season. The grittiness, the sense of betrayal, the brutality—all are sharply different from the amorous, steamy idealism of the previous novels in this series! Very good, but very dark.
Pretty great. If you've paid any attention to past reading lists on this blog at all, you know the name Mark Lawrence. I pretty much race about his books every chance I get. So when he started posting a brand-new story on Wattpad, only a few weeks went by before I caved and got an account specifically to read this thing. (I ended up starting
three stories of my own
, but okay!)
I was NOT disappointed! Lawrence populated his stories with a handful of core characters and deceptively simple concepts, which then give him room to rapidly develop these things and expand them over the course of the tale as it unfolds, pulling the reader inexorably deeper into the world he has fashioned. The most difficult part was being "forced" to wait two to four days between installments, instead of just reading on through the whole thing in the fewest number of sittings. To be fair, it was better than a TV show, because he updated twice a week, not just once. But the wait just about killed me sometimes! Really good stuff!
#5: The Doomsday Code (TimeRiders #3)
Alex Scarrow
Just splendid. Twists as always, but I am caught up in the fascinating turns this story is taking, and the situations faced by the different characters. Can I just stop and appreciate how much Time Riders has defied my expectations and furthermore delighted me at every turn? No premise too far-fetched, no paradox left unanswered. Last time, they had to go all the way back to a prehistoric era—this time it's medieval times, the time of King Richard and Robin Hood. The story also brings somebody along from the kids' future, who knows more about time travel than they do. There's more development with Bob and Becks (endless sources of entertainment!) more about Liam and Foster... Wonderful stuff! The storyline with Maddie can get kind of cheesy, but I am neither put off nor annoyed at it. Score!
#4: The Well of Ascension (Mistborn #2)
Brandon Sanderson
WOWIE KAZOWIE. Oh Sanderson, you wonderful human being. If I could ever achieve the character depth of Rowling and the whimsy of Funke, adding the compelling prowess of Sanderson–I would be a very happy fantasy writer! This Mustborn series is taking my breath away in all the ways, frankly, that I expected of Dune (but it never quite managed...). The rich world, the vibrant characters, the ancient prophecies guiding the plot forward... All of these combine in just the right amounts to deliver a story worth paying attention to. Definitely some "kill your darlings" moments, with all of the feels attached to characters you didn't know you cared about—but I am very much looking forward to the next book!
#3: The Guilty (Will Robie #4)
David Baldacci
Guess what? Will Robie is still at it! I had convinced myself that it was a trilogy—then I saw this one, and I distinctly remembered the abruptness and openness of the ending of "The Target" and how that left me with not very much closure—of course that wasn't the end! "The Guilty" honed in on Robie confronting the demons of his past, the bad blood between him and his estranged father whose abuse, both verbal and physical, is what drove Robie to leave all that behind and join the military, intending never to see his father again... But he has to put all that aside to investigate the truth behind the allegations that Dan Robie murdered somebody. Twists and secrets you never see coming till they hit you hard enough to blow your mind—Baldacci wins again. Intense and poignant—another rousing success.
#2: The Liar's Key (Red Queen's War #2)
Mark Lawrence
Boom, baby! This series is turning out with a lot more laughs and breathless moments than the last one! How do I love a Mark Lawrence novel? Let me count the ways! After the dark, tortured bloodbath of the Thorns trilogy that introduced me to the Broken Empire and the state of the world after the Day of Thousand Suns, it seems Lawrence is really letting his comedic (albeit gallows humor) side show in this series. I'm calling it "Jal and Snorri's Epic Adventure!" Sure, it's still grim and dark with plenty of murder and vicious mayhem... but the number of laughable moments has definitely shifted in balance between violence and humor! I love it even more than the last series. I am very excited for the final book, Wheel of Ossheim. Bloody brilliant!
#1: Winter (Lunar Chronicles #4)
Marissa Meyer
OH ALMIGHTY YES!!! It has been
how long since I read Cress
? (Hint: MORE THAN A YEAR!!) Now at last, I reach the moment I have been nearly tearing hair out over... and it delivered. Hoo boy! Did it deliver!! The most perfect adaptation, and excellent closure I could have wished upon star for. All lovers of cyberpunk and fairy tales should
absolutely
read this series! Winter not only introduces last character in our main cast, but it also gives readers the final showdown against Queen Lavinia that we've been waiting for since Book 1!! Glorious full of feels.
Definitely
number one on this list!